We are so happy!
A short home story about the three Rassls (1/2)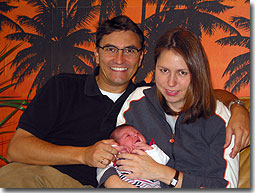 Welcome to our home! We want to give you a short impression about our new life with our angel Fiona!
This picture was taken three days after Fiona had moved into our house. She is only nine days old on this photo. As you can see we are all in good shape. Although Fiona is a little bit complaining on the picture she likes it very much with us. This is no surprise because we are crazy about her. Alexandra's health is improving too. She could recover very well at the hospital after Fiona's birth and looks as good as before. Robert is doing fine also. He took some days off to enjoy his family and is getting adapted to the feeling being a father.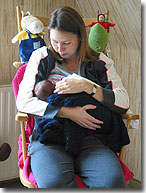 Of course, we take our parental duties very seriously. On the top of the list is feeding. This is Alexandra's job by nature. And she is doing a great job. It took a few days until the two ladies understood the secrets of nursing. But now they are a great team and Robert enjoys it watching them while getting so close. Fiona is always hungry and Alexandra is always very patient.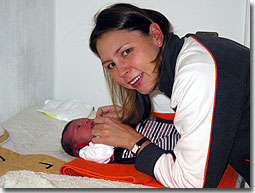 However, what gets in has to come out. Thanks to modern diapers this is no big work. Moreover, it is fun for us to dress our little lady. She is so cude with her little body! Just look at the picture. Young Alexandra is playing with dolls again.
The third main chapter in Fiona's life right now is sleeping. Her little bed stands in our bedroom. So far she is not willing to fall asleep in her bed. Usually we have to carry her for a while and let her feel our warm bodies. After some time she can not resist and her little body rests relaxed in our arms. This is the time when we bring her to bed. She stays there until she wakes up because of being hungry. This is the moment when the whole circle starts again.
To continue the story click the arrow below!