Robert´s parents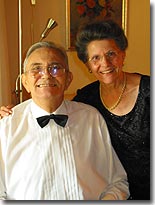 Here you see Robert´s parents. This picture was taken on the day of our wedding and is one of the very last photos of them. Unfortunately Robert´s father Bernhard died shortly after on October 15th, 2003. They were married for almost 38 years. Robert is their only son and they did a great job to bring him up.
Robert´s parents had lots of fun in their marriage although the last two and a half years were accompanied by sorrow and pain. Bernhard had an accident with his bike May 10, 2001. He hurt his head so badly and damaged his brain so much that he had problems to speak and to remember since then. While getting better after this accident, he was hit by bad luck for a second time. He felt down in front of the hospital and broke his leg. He never recovered from this incident again and could not walk anymore.
Luckily, Bernhard was married to a loving woman. His wife Erni stayed at his side and nursed him since that awful accident. We two, Alexandra and Robert, are very impressed by Erni´s great commitment. We tried to support Bernhard and Erni as much as possible. However, we realized our possibilities were limited due to our duties at work. It was an ugly situation for us all.
However, we don´t want to miss one single day! Even in their worst times they were great parents and raw models to us. They taught us a lot. They showed us what love means and how great it is to have a partner for walking through the highs and lows of life together. We try to master it as well as they did!
Now, only Robert´s mother is left. We are happy because she lives with us together in one house. She supports us in many ways. Let´s hope that we get kids very soon and Erni can spend all her great love to their grandchildren!
Bernhard and Erni, we wish you both very much strength and luck!